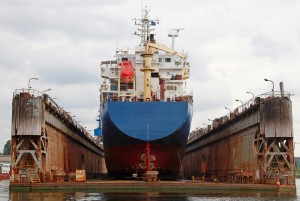 In a twist on the old adage, "bad facts make bad law", the Second Circuit's recent decision in Fireman's Fund Insurance Company v. Great American Insurance Company of New York, Civil Action No. 14-1346-cv, 2016 WL 2943139 (2d Cir., May 20, 2016), clearly demonstrates that bad facts withheld by an insured from its insurers can make for a very bad result for insureds.
This recent May 20, 2016, Second Circuit decision arose from a contribution action filed by Fireman's Fund and the insured, Signal International, LLC, against the insured's pollution carrier and excess property insurer, due to losses and environmental cleanup costs that resulted when the insured's dry dock sank. Post-loss, and based on the $13.6 million value of the dry dock as represented by the insureds in the Statement of Values, the primary property insurer paid its total coverage amount of $10 million; and the excess property insurer paid $3.6 million. When the excess property and pollution insurers argued that their respective policies did not cover the costs of the dry dock removal and environmental cleanup, Fireman's Fund, the marine general liability insurer, agreed to fund the removal and cleanup efforts, reserving its rights to seek reimbursement from the excess property and pollution carriers.
In response to the contribution action filed by Fireman's Fund and the insured, both the excess property insurer and the pollution insurer sought the district court's declaration that their policies were void due to the misrepresentations and nondisclosures of the dry dock's deteriorated condition during the underwriting process. The lower district court agreed that each of the policies were void and Fireman's Fund appealed to the Second Circuit.
In affirming the lower district court, the Second Circuit clarified the test to determine whether a policy is, in fact, a marine policy, and the importance of that determination upon the remaining rescission analysis, particularly when the policy is determined a marine policy and subject to the doctrine of uberrimae fidei (i.e., parties to a marine insurance policy must accord each other the highest degree of good faith). The Second Circuit's analysis further demonstrates that, even with non-marine policies where the doctrine of uberrimae fidei does not apply, an insured must still provide information to an insurer in a way that is not misleading and half-truths by an insured will not always protect an insured from policy rescission.  Read more ›